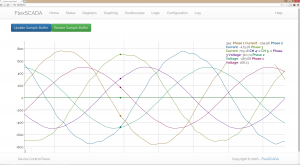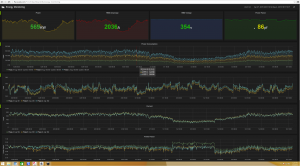 The Flexs Q4 is used around the world by mining, oil-gas and manufacturing companies for monitoring ac power vectors.
With the Flexs Q4's universal inputs you can easily connect a wide array of voltage or current sensors and instantly start viewing RMS Voltage, RMS Current, Power Factor, Real Power, Frequency and more!   Since the inputs are universal they can read standard 4-20ma or 0-5v sensors without any conversion modules; allowing you to monitor a generators output performance along with oil level or monitor an industrial air compressor's power usage as well as air pressure.
One neat feature that our clients love is the web based oscilloscope which allows them to view actual wave-forms on the Current Transformer and Voltage Transformer outputs!
Here's a few reasons why customers are choosing the Flexs Q4 for their energy monitoring needs.
Easy Setup
You don't need to know how to program or even install a single piece of software to start using your Flexs Q4, simply plug power in and connect the network jack, the devices IP address is instantly displayed on it's on board lcd and can be typed into your web browser to begin the setup wizard.
Universal Inputs
Our clients like to have one device that does everything, with the Flexs Q4 you can monitor line voltage alongside temperature probes or pressure sensors!
The Flexs Q4's inputs can also count pulses, frequencies and more!
Ultra Reliable
The Flexs Q4 is designed for operation in the harshest environments that our often at extreme temperatures and saturated with magnetic interference or electrical surges.
Utilizing a 100% Solid State design with military spec components you can be sure that our device will survive the long haul
Open Standards
You don't need any software to start using the Flexs Q4 to monitor energy, just insert an SD card into the devices memory card socket and you can start recording values in a simple CSV document for import into excel or other spreadsheet programs.
For remote internet access the Flexs Q4 supports open protocols including SNMP, JSON, HTTP and UDP allowing for effortless integration with existing software infrastructure, for those that still want to log remotely Flex Scada also offers cloud based hosting at very affordable rates.
Event Recording
Expressions can be setup to log a snapshot of up to 4 ac cycles (16 thousand samples per second)  when a particular input exceeds it's projected value allowing for sub cycle transient recording