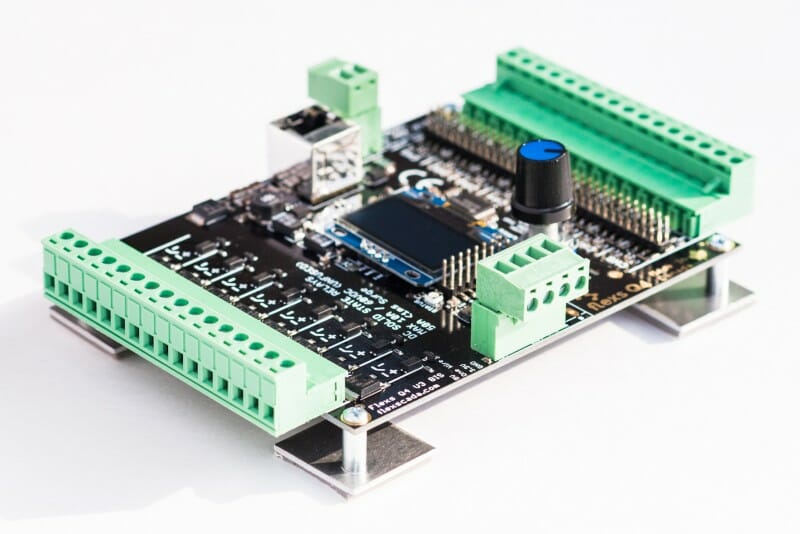 The Flexs Q4 is a revolutionary new device for monitoring sensors, voltages and energy remotely over the internet, built on the success of our Flexs Q3, the Flexs Q4 makes setup and deployment easier by leveraging an onboard webserver.  An LCD is also present for viewing sensor values and altering network configuration right from the device.
With the new Flexs Q4, setting up a device is as easy as connecting a power supply and a network cable!
Features:
100% Solid State Military style design provides decades of up-time for the most demanding and crucial use cases.
Ultra low power consumption allows for operation from off grid power systems.
Full IPV6 Support (Including DNS, SLAAC and DHCP)
Eight High Resolution Universal Inputs.
Eight Heavy Duty Solid State DC Relays / Load Switches
On-board EZlogic (ladder like logic allows you to configure the relay outputs to activate when inputs pass thresholds, etc..)
5V and 3.3V Outputs for powering sensors
Applications:
Remote Site Monitoring (Control Loads, Graph Battery Voltage, Charge Amps, Wind RPM, Temperatures and more!)
Industrial / Process Monitoring (Mixer Cycles, Speed, Energy Consumption, Thermocouples, Pressure Transducers, Intrusion, etc..)
Energy Monitoring (Watts, Volts, Amps, Powerfactor, Hz)
SCADA Systems (Interface directly with 4-20MA, 0-5V, 0-10V Sensors to create a complete SCADA system)
UPS Monitoring (Monitor Energy flow, battery voltage and temperatures from one device!)
Next Generation Internet Of Things Scada RTU Device
Features:
Extreme Reliability, Multi Decade Uptimes
Trend Setting, Ultra Low Power Consumption
Eight High Speed Multi Function Input Channels
Eight Solid State Load Switches
Onboard High Speed Logic, i.e. If input ch1 > 14V, set output ch4 ON
Uses:
Scada Systems: Compatible with 4-20MA, 0-10V and 0-5V Sensors
Remote Site Monitoring: Battery Voltage | Solar / Wind Charge Amps | Intrusion detection
AC / DC Power Metering and Analysis: Freq | Power Factor | Volts | Amps | kWH | Oscilloscope
Solar Systems: Remotely Monitor PV Output, Amps, Volts, Battery Status, and Priortize Loads
Hydro: Auto Shutodown, RPM/HZ based Ballast Control, pressure, flow, efficency monitoring
Physical Plant Monitoring & Automation
Renewable Energy Systems
The Flexs Q3 is our flagship remote terminal unit, it's designed with eight multi-purpose analogue inputs to accept a wide array of input types from 4-20MA Sensors, 0-5V/0-10V Sensors, DC Voltage, DC Current Shunts, AC Voltage and AC Current Transformers. It also features eight solid state DC relays to switch loads on and off.
For a listing of products currently available for sale please visit our online shop