Description
These sensors can be used to measure battery charge or discharge current, solar charge amps, wind charge amps etc..
Each sensor is fully isolated and non invasive which makes installation as easy as routing your wire through the sensor.
NOTE: These sensors are bi-directional and can measure which direction electrical current is flowing.. I.E. Discharging or Charging a battery
Example Uses:
Solar Charge Current Monitoring
Wind Turbine Battery Charge Current Monitoring
Battery Load Amps
AC Load Amperage
DC Load Amperage
Range: AC-75A RMS, DC-100A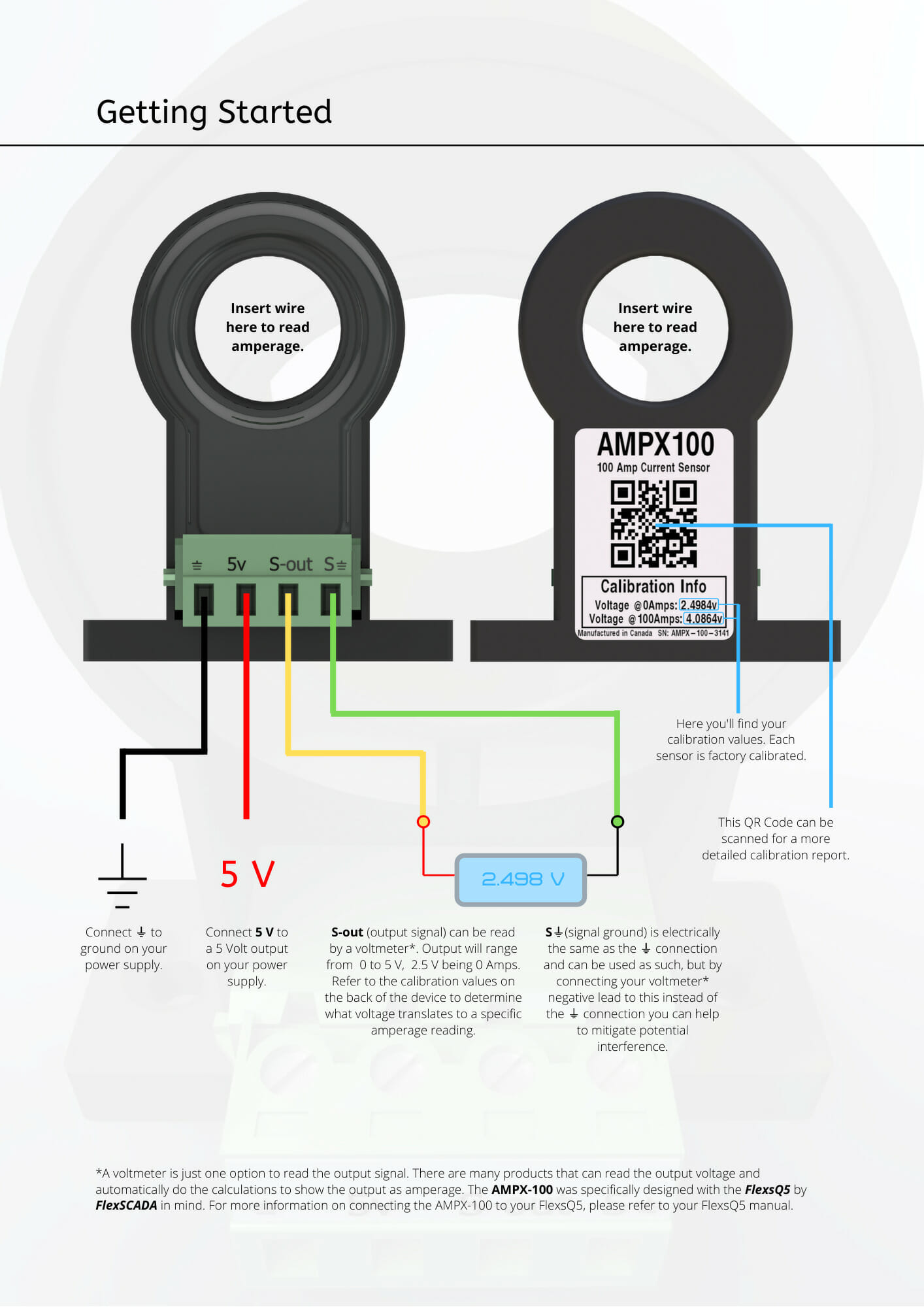 Interface details for our Flexs Q5 is available in section 2.1 of the Flexs Q5 Product manual (PDF)
Connecting to the Flexs Q5
This Non-Invasive Current Sensor is fully compatible with our Flexs Q5 and can be powered by the onboard 5V power supply for easy connection, the isolation on these sensors ensures your equipment will not be damaged during large transient surges or other unforeseen events.
Accuracy is excellent and usage is simple, just connect as follows:
Ground connects to the ground terminal on the Q5's 4 pin supply header
5V connects to the 5V terminal on the Q5's 4 pin supply header
Output Signal connects to the positive terminal of any of the flexs Q5's analog input channels.
Signal Ground can be connected to the negative terminal of the Flexs Q5's analog which can help to mitigate interference
Q & A:
Q: What types of current can be measured?
A: DC, AC(up to several KHz) , PWM
Q: What is the output signal of this sensor?
A: DC voltage, the range is from 0 – 5V.
Package includes:
1 AMPX-100 Current Sensor
1 Din Rail Adapter
Mounting Screws